Rikku: Yuna, please be here!
Rikku Gasps…
The Summoner's sanctum.
The fighters all entered into the Sanctum and the Guardians were there with them. The room was unfortunately in shambles. There was Wreckage all over. Al Bhed Bodies were seen everywhere.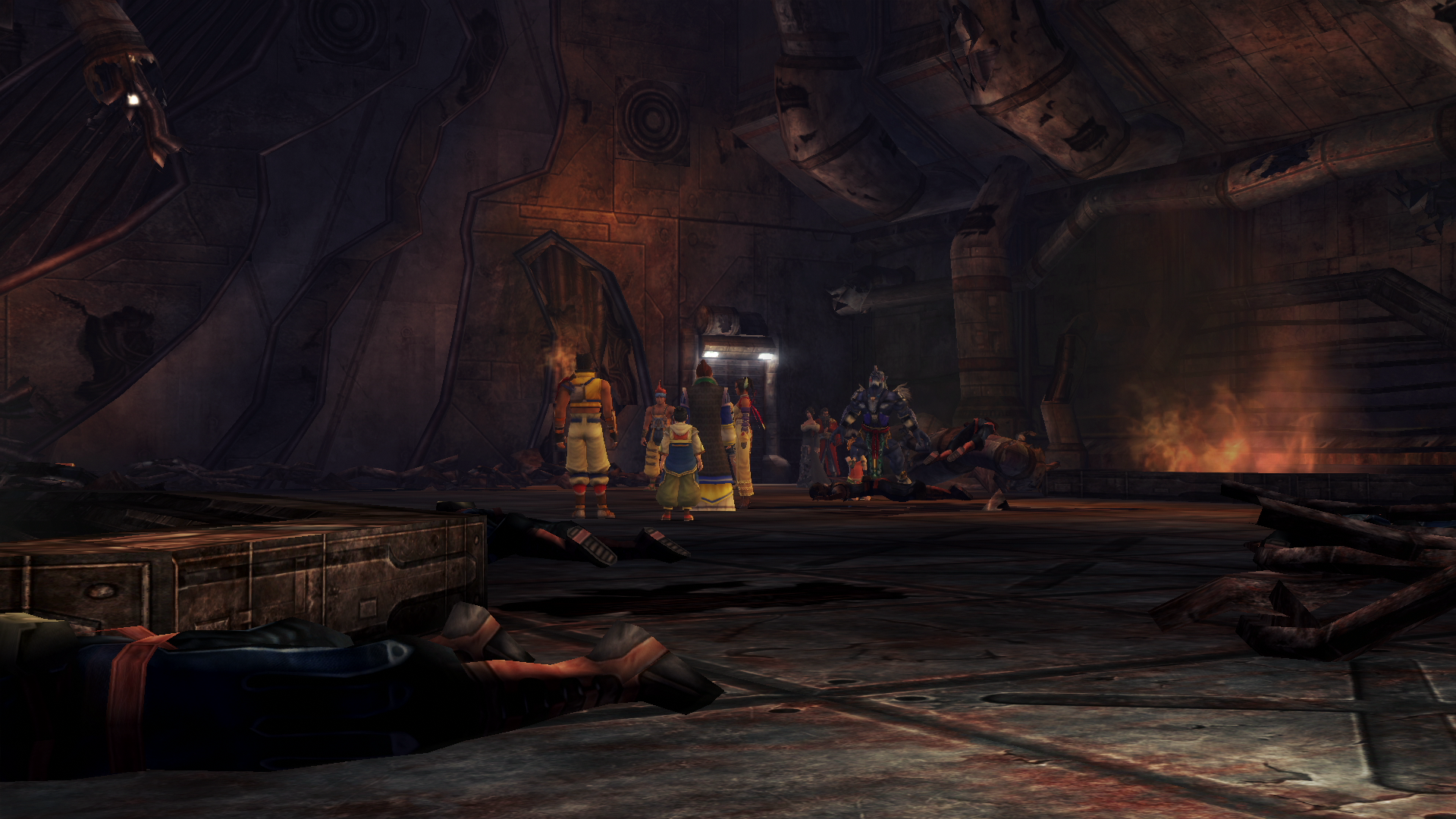 Kimahri: Yuna!
By that time, the fighters were back in normal look as in the Sanctum there was said to be no infiltration of Guado. It was said to be the one place that the Guado had not penetrated.
Annie: YUNA!
Serena: *Calling out in desperation* YUNA, WHERE ARE YOU?!
Dona: She's not here.
Sora: Dona!
Carly: What the…? Whoa! Wait… What are you doing here?
Dona and Isaaru approach over to the fighters and guardians…
Dona: Hello again. Wait there until we have performed the Sending.
Sora: How did you get here?
Carly: What do you suppose happened to the part of being fearless and rather ruthless?
Dona: No idea. I was cornered by a couple of the Al Bhed while on my way to the next temple as i was leaving Macalania. Barthello tried to fight a couple of them off. Had me to get to safety. However the Al Bhed snuck up behind us as we barely reached the woods and nabbed me. Said that i was in danger.
Isaaru: They died… Protecting us. It's not much, but the least we can do is give them a proper sending.
A minute later as the summoners who were in the room were set to prepare for the sending. The Guardians were close by too…
Pacce: *Running up to Tidus and Looking towards Tidus and Paul* Hey, um, Mister… Paul… what's "sacrificed"? The Al Bhed said summoners were being "sacrificed." That summoners shouldn't have to do a pilgrimage…
Paul: Sacrificed is a term used to refer it being someone given up for a cause. or someone giving their lives for something that they believe in and are devoted to doing to either bring peace to others and or protect others that mean alot to ensure their survival. Sparing them from the pain of being hurt. Giving their lives for something that is more important than anything.
Raven: That there… Paul. That there is something that i would usually say. But that is what it means. Giving ones life to serve for a better cause. A greater purpose.
Tidus: Why couldn't they trust guardians to protect the summoners? The Al Bhed had no right stopping their pilgrimage!
Sapphire: That's right. The Summoners should not have been made to stop from doing their pilgrimages.
Zoey: The Pilgrimages are what Summoners must do. It's what they were made to do. Stopping them is wrong.
Clint: How Could the Al Bhed just stop someone's pilgrimage just like that against the Summoner's will? Against the wish of the Summoner? That is not right and it should not be stopped. Summoners are doing something that many of others would wish that they could do… but can't.
Rikku: The pilgrimages have to stop! If they don't, and they get to Zanarkand… They might defeat Sin. Yunie could…but then she… Yunie will die, you know?
Rikku: You know, don't you?
Spencer: Rikku, How did you get this type of knowhow? What are you even saying?
Rikku: The Al Bhed know this as it's in the history and the lore of Spira. My father found this out and as did my brother. Keyakku… who taught me how to fight. How to combat. He heard of it. Summoners journey to get the Final Aeon. All Summoners know this. Yuna told you, didn't she?
Annie: NO! That is not true. That is not what Summoners do… They don't go to their doom. No!
Serena: *Feeling heartache* This can't be. It can't. How can it be?
Rikku: With the Final Aeon, she can beat Sin. But then…but then… If she calls it, the Final Aeon's going to kill her! Even if she defeats Sin, it will kill Yunie too, you know! *Breaking down in tears; Falling down then starts crying*
Tidus: Was I the only one who didn't know?
Raven: Were we the only ones who didn't know? We didn't even know about that. Not at all. No one even figured to let us in on the fated destiny of the Summoner. What the Summoner's pilgrimage is truly all about.
Tidus: *Shaking Rikku* Tell me why! Why were you hiding it? Why didn't I know?
Spencer: *Walking over to Rikku* Rikku, Tell me… Tell us. Right now. Why didn't you think to tell us? Did you really think that we would never understand? *Pulling Tidus off of Rikku* Tidus, Enough. You're hurting her.
Tidus: …
Spencer: *Grabbing Rikku and reaching through to her* Rikku, Listen to me… Please. Tell us… Why did you hide this from us?
Wakka: We weren't hiding it…
Lulu: It was just…too hard to say.
Sapphire: Give me a break. Give us all a break. Too hard to say. Too hard to say? TOO HARD TO SAY?!
Clint: Wrong! Lulu, Wakka… You both need to wake up, dreamers… Wake up and smell the aroma of the bull that's being told. Anything that's bad… or too devastating… like the truth that's being exposed now… is always gonna be too painful or hurtful to say. It always has been. You two don't really get it. Do you? There is never an easy way to break out the hard truth that gets heard or brought to one's attention. But if someone is in need to know. Like us… Even if it hurts. We are entitled to know. IT will hurt. We aren't gonna lie to you about that. It will hurt and we'll spend a little time here and there for a while to go on about it… trying to come to terms to it… but we would rather hear what needs to be said… from the source. That's how it works. That's how it is meant to work.
Tidus: Lulu! How could you? How could you? Isn't she like a sister to you? I thought you were family! Why don't you do something, Wakka?
Serena: *With tears in her eyes and becoming upset; With fury and outrage* Yeah! What the hell is the matter with you guys anyway? Don't you guys even give half a damn about the fact that Yuna could be dead as soon as we reach Zanarkand? She will die. If that's what the Pilgrimage is all about… so the Summoner can go off and just Die.
Zoey: Do you really think that you could just live with yourselves if Yuna really did die and if the final Aeon became the next Sin… that this whole thing would be started all over again? It would make her death be for nothing. You'd be without a sister figure. and you'd have more people to be made casualties of Sin's earthly devastating power. Yuna will be killed and you all are allowing for it to go on.
Theodore: You should be truly ashamed of yourselves!
Lulu: Don't you think we tried to stop her? She follows…her heart.
Wakka: Yuna, she knew what she was doing when she chose to become a summoner. To face Sin, ya? Yuna knew!
Serena: Yeah right. How the hell could she have known that she was said to die once she were to reach the end of her Pilgrimage? As if she were to know if she was going to her death and that her death would be in vain as she'd defeat Sin… The Final Aeon will kill sin and then kill her. Then 10 years later… another Sin will be born. You think that she had to have known what she was doing?
Paul: Exactly how many sticks of Dynamite does someone have to stick into your ears before your heads were to clear? Yuna is gonna die after Sin is gone. The Final Aeon is gonna kill her. You get that… at all? It's gonna kill her. Are you quite happy with that?
Wakka: You guys don't understand that it was Yuna's choice. You don't see.
Spencer: We don't see, huh? We see something else, don't we? Well what we see is that you are all letting Yuna go off and kill herself. What we see is that you were just told the truth of what happens to the Summoners once they reach the end of the Journeys and are practically making as if you're okay with the deal. that it's just okay that the summoners go and get themselves killed as long as it brings the peace. Even if one of the Summoners happen to be one who was really close to you. that you considered to be part of your family. That's not a heaping amount of happiness and loads of sugar and Spice. It's also not a grand Giant Leap in our pretty book.
Wakka: Yuna knew though. She knew right from the start that it was gonna happen. She knew and was set on doing it anyway. She was determined to go and become a Summoner. Just like her father Lord Braska.
Rikku: But Wakka, that's just totally wrong! Summoners shouldn't have to sacrifice themselves…just so the rest of Spira can be happy, right?
But suddenly as they were all letting out their pain and heartache over learning the truth about what the Summoners were destined to have happen to them once they were to complete their pilgrimages… A Large fiend started to Materialize from the pyreflies…
Isaaru: But that is our choice…
Dona: We all live in fear of Sin. You know that.
Isaaru: A world without Sin… That is the dream of all Yevon's children. And we will use that power, even if it means our lives!
Dona and Isaaru summon for their Aeons. One summoned for a Valefor. One summoned for Ifrit. But that was when Tidus, Zoey… Serena, Raven and even Blossom ran over to Valefor and started pummeling Valefor While Ifrit went after the beast that appeared in the room…
Tidus: *Pummeling Valefor* And I've been telling Yuna… Let's go to Zanarkand together! Let's beat Sin! I told her all the things we could…we could… And all along, the whole time, I didn't know anything! But Yuna, she'd…just smile.
Serena: *Pounding on Valefor in pain* This is so unfair. Why the hell did it have to be like this? Why did it have to be that Yuna was going to press with her pilgrimage and head off to her death? Yuna is gonna die and the whole time we were with her… the whole damn time… We didn't know a damn thing. Nothing.
Raven: *Pounding on Valefor and in despair* This is not how it was supposed to be. We poured our hearts out to her. Telling her that maybe after Sin was defeated… We show her our home of Metropolis. Showing her all the things. Telling her that we all could… we could… All of it and the whole time… the Entire time… WE DIDN'T KNOW ANYTHING AT ALL!
Zoey: *With tear-filled eyes* Yuna shouldn't have to be going to her doom. She's too young. She's not meant to die. How could a faith like Yevon allow for any summoner to go on a pilgrimage to defeat sin and get themselves killed after Sin was destroyed? The Faith… Yevon… isn't a faith. It's a means for a sacrifice. To give up your life for something that is a fools gold. Destroy Sin so the world could just live in peace. How can it be so cruel? Why?! *Crying*
Blossom: *Crying while still inflicted with some burns that were remaining from the attack that came a moment earlier* No one even told us about it. Yuna never even told us about what a Summoner is supposed to do… what it could have meant in the end once she reached the end of the journey. Why didn't she just tell us? Did she think that we were not meant to know. To keep us all from worrying so much about her? How could she do this? We're her guardians. her friends… Didn't that mean anything to her? How could she just not tell us that her fate was reaching Zanarkand and by time she were to beat Sin that after Sin was gone The Final Aeon would kill her and become the next Sin? Yuna's gonna be killed by that final summoning. We didn't even know of it till now. Of all the people to keep it from us… Lulu, Wakka, Auron… Kimahri… How could you guys keep it from us? Didn't we have that right to know?
Valefor drooped down to comfort Tidus, and the girls who were there and felt their sadness. Wished that there was something that could take it back. Taking back the heartache and the pain that they were feeling. Wishing that it never had to be like it was at that moment…
They all were in devastation as they all learned of the Fate that Yuna was surfaced with. But it was then that they were all in reminisce on How Yuna was. How she wished for her Journey to be filled with nothing but laughter…
Flashback…
"Yuna: Hey, watch! *Whistle*
Raven: *Gasps* Wow! you've gotten pretty good with the whistling. It wasn't really all that long ago when we were going off to search to Auron when you couldn't really whistle. But since then… till now. You got the hang of it.
Tidus: Hey, you got pretty good.
Serena: She sure has. She's gotten rather used to it. Short time too.
Yuna: You sound sad.
Tidus: Yeah, maybe.
Raven: We kinda feel a little down ourselves. Not sure why since there isn't really much we can do to change what has taken place.
Serena: The fact that we learned that a member of our family has been here all this time… it's just so surreal.
Yuna: Wanna scream?
Tidus: Nnnn…I really don't think that's going to help this time.
Raven: *Looking down* Screaming about it won't change the outcome of what we were told just moments ago. We don't think screaming is even the most subtle way of dealing with what happened.
Yuna: You know what?
Tidus: Hm?
Serena: What's up, Yuna?
Yuna: It's embarrassing to say this myself… But summoners and their guardians are kind of like Spira's ray of light. A lot of people in Spira depend on us. I learned to practice smiling when I'm feeling sad, you know?
Raven: I think that everyone practices that. To hide the real hurt that they may feel because of a something… or a someone. or because of something that was said or because of a place.
Serena: It isn't easy to just be all open willed to… you know… smile. Because smiling when you are sad… It's like you deny that you've been hurt. And sometimes… the person with the strongest will and the strongest determination plus heart… are the ones who deep down… carry off the most pain. they harbor the most pain as they feel it greater than those who aren't as strong in heart… mind and body.
Yuna: I know it's hard.
Raven: It was meant to be hard. Nothing comes easy, Yuna. Never had.
Tidus: Yeah… I understand. I think.
Yuna: Right, now let's see what you can do!
Flash forward a little past that to where they're all laughing…
Yuna: I want my journey to be full of laughter."
Return to current time…
Tidus: I can't let her die. I'll find her.
Serena: So will we. We don't give a damn what it takes… We're gonna find her and bring her back to us. Guado barricading our paths be damned.
Zoey: That's right.
Sapphire: Let's go.
It was within that moment that the fighters and guardians all gathered up their bearings and once again pressed on. But the only way out was the side door that was on the side corner. They went through it and saw that it took them to a ramp which turned out to be a Dock port. It lead them all up to a door that took them somewhere. They had no idea as to where it took them. But it got them out of the ruined home. Wait till they found out exactly where it was that they were. The fighters would be shocked. Wakka would be caught off guard with sudden shock…
Inside the secret area of home…
On the Bridge…?
Cid: *Walking into the Bridge* Hu desa! Ku, ku ku!
Brother: Drnaa sehidac mavd! (Three minutes left!)
Cid: Rinno, rinno! Oui ryja uha sehida! (Hurry, hurry! You have one minute!)
The fighters and Guardians then arrive on Bridge…
Tidus: *Walking over near Cid* Where's Yuna?
Serena: You tell us where Yuna is right now. Where are you keeping her?
Cid: Ajanouha uh puynt? (Everyone on board?)
Al Bhed: Ajanouha ymeja!
Tidus: I said, where is she? *Grabbing Cid* Answer me! Answer me, Damn you!
Raven: You better answer us and tell where Yuna is before we come loose. We have been looking all through the desert and through home here for her. Haven't found her. So either she's really gone and we don't know it quite yet or you've got her here somewhere.
Paul: Don't test us. We're not in a very chipper mood as we just ripped our hearts out over hearing something that we should have been told from the beginning but haven't till just a moment ago.
Cid: What'll you do when you find her, eh?
Tidus: I didn't know anything about what a summoner is supposed to do. And I told her all those things without even knowing. I've got to tell her. I've got to tell her I'm sorry!
Serena: We told her all about our home back in the city of Metropolis Kansas. Told her all those things without even stopping to ask about what it was that she was meant to be doing… We've got to tell her… We need to tell her that we're sorry.
Cid: Wait a Minute… Metropolis Kansas?! *Turning to look at Serena* You not pulling this Al Bhed's mind apart with that… are you? You from there?
Raven: Yes. We are. Why?
Cid: Well… color me with a mind blower. How did you all get to Spira to begin with?
Spencer: Through a Portal sir.
Cid: A Portal, eh?
Clint: That's right Sir. Cid, We came through a portal. An abnormality in the space-time continuum.
Cid: And those Yevon Clods Think that Machina is bad. Try a Portal. You guys came through it? Was it just you young kids and 3 grown men?
Alvin: Not Quite all… there are others, Sir.
Cid: You don't say. You'll have to tell me all about it as soon as get ourselves out of here. *Looking at Tidus and Serena* That's it? You're gonna tell her you're sorry? And then you just drag her to Zanarkand and make her fight Sin, huh? You're all the same — let the summoner die so we can live in peace! *Throws Tidus to the deck and Thumps Serena on the head*
Tidus: No! I'm not gonna let Yuna die! 
Serena: Neither are we. We are not gonna let Yuna bite the dust. We won't allow it.
Cid: Hah! Words! Show me action!
Tidus: I'm telling you, she won't die!
Serena: And i mean what i said…
Sapphire: Yuna is considered to be a part of the clan here… we'd protect her with our lives.
Theodore: That's right. We would. No matter what.
Penny: We Swear on it. We Won't allow for Yuna to Die!
Cid: Boy, Young Kids… don't forget those words, 'cause if you do…I'm gonna make you regret it.
Tidus: I won't. So… You know where she is?
Zoey: Anything?
Cid: 'Course not. That's why we're gonna look! Using this airship!
Wakka: A-Airship?
Paul: Air Ship?!
Amy: Air SHIP?!
Sora: Did he just say Air Ship? *Stammering and stuttering in shock* You m-m-mean that w-w-w-we're in a a-a-a-air s-s-s-s-ship?
Carly: I think that he did say that. He said it and now… we're here. We're in a Air ship.
Sora: Oh god…
Carly: Aren't we scared of Air Ships?
Sora: I don't know. We've never been on one…
Carly: Well… we're on one now.
Suddenly the platform shook and let off a Jolt…
Annie: *Falling back and hitting the floor* Whoa!
Amy: *Tumbling over* Whoa! Ouch!
Zoey: *Pausing and Afraid to move* Uh… Are we really… in an Airship?
Avery: I do believe that we are…
Brother: Vydran! Nayto du ku!
Cid: Oaaryy! Y vmekrd 1000 oaync ujantia! (Yeehaa! A flight 1000 years overdue!)
The hangar opened up and sand came in through as the door leading to the outside opened up wide. The Air Ship fired up and started to rise on up… going up out of the hangar. rising from the hangar that happened to be underground from the Al Bhed homestead…
Brother: *Piloting and looking back a second* Whoa! It moves!
Cid: *Within a few steps away from Brother* Risk big, win big!
Brother: Fruy! Ed vmeac! (Whoa! It flies!)
Cid: Haqd, fa ica dryd! (Next, we use that!)
Brother: *Glumly* Frydajan oui cyo.
A second Later…
Brother: *Starting off* Ieyui
Cid: *Turning to face the others while Joining in* Nobomeno *in Unison with the other Al Bhed*
Renmiri
Yojuyogo
Hasatekanae
Kutamae
Brother and several of the crewmembers of the ship sing out the "Hymn of the fayth" in unison as a Dirge…
Wakka: What's goin' on?
Sora: What're you gonna do?
Carly: Is something gonna happen?
Spencer: *Walking over to Rikku and Standing by her* Rikku, What's happening now?
Rikku: We're…we're going to blow up our Home.
Spencer: *Gasps* What?! Huh?! Are you kidding? But… that's your home. the place that you and your people have considered home. Why would you destroy the thing or place that you all created and made to shelter you and keep upon you with safety and safe harbor?
Cid: It's infested with Fiends. It has to be done Kiddo. It's for the best. No telling if those Guado are the ones that were still sending in fiends to take us down… But We can't let those Fiends bust loose. We must blow up our home.
Lulu: How?
Cid: With one of the forbidden machina! *Commanding Brother to fire the missiles* Nayto? Vena!
Serena: *Feeling the Speed* Come on firestorm… Come and chase us. 6,000 pounds of metal with the Knack for flyin' You know that you want us…
Sapphire: Serena, This is no pleasure. This is a race to escape that blast. We have to outrun the blast.
Amy: *Holding on to the railing* Everyone… Hold on tight!
Zoey: Don't worry… We are.
Clint: This is gonna be a high adrenaline rush…
Paul: Oh god… Oh god… *Holding on to the rails*
Serena: Oh god… It's chasing us. We're in for it now.
Theodore: We better ride that storm. Beat it before it gets us…
Spencer: *Feeling the heat* Blizzard… Anyone. I am overheating here… Not good. Not Good. *Burning up* AHHHHHH!
The ship fired the missiles and blew up home. Home was leveled and now they had to get on with the flying away and keeping ahead of the Firestorm. Although the firestorm gets them and overheats their ship. But they were still in the game. Still in for the kill… With the truth about the Summoners out and Exposed. The fighters and the guardians were gonna have to step up and be there to protect the Summoner… Harder. But first… they had to find her… rescue her and then… take her to safety. Fast. But before that, they had to run and survive the Firestorm. Making it out of the radius of the blast. Would they make it? What would happen while on the Airship? Find out in the next Chapter of the Adventures of the Rhapsody Girls Z! as the Saga Continues…
Ride the Al Bhed Airs and into the skies they soar. From the ground to the air they go and maybe beyond. Soar high and fast into the airs. Rhapsody… Go! Find Yuna and bring her back! Take to the skies with the Clan in… Into the skies we fly… Rhapsody Clan transport by air.